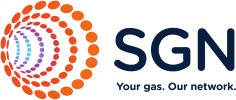 We are SGN
We manage the network that distributes natural and green gas to 5.9 million homes and businesses across Scotland and the south of England.
Emergency: We provide the National Gas Emergency Service day and night. Whenever a gas emergency is reported, our engineers will attend within an hour if the supply can't be turned off at the meter or within two hours if the emergency control valve has been turned off and the smell of gas has gone. We'll always make the situation safe whether the gas emergency is inside or outside a property. Smell gas? Call 0800 111 999.
Connect: Every year, we connect around 20,000 customers to our network and we help thousands of our most vulnerable customers heat their homes for less through our Help to Heat scheme.
Upgrade: We're committed to upgrading our network and we use the latest technology as we replace, renew and maintain our pipes. We're constantly innovating to ensure a safe, secure and sustainable future for our network. Visit our website for more information about our gas main replacement programme in your area.
Keeping you safe: Safety is at the heart of everything we do, whether it's the safety of our customers, the general public, our employees or contractors. Our gas pipelines run under fields, roads, rivers and railways across Scotland and the south of England. We know, at times, work needs to be carried out close to these pipes, such as ploughing or drainage. Damaging a pipe could put you, your family or the public at risk. It's our responsibility to protect our network from accidental damage and keep you safe.
Before you start work close to our pipelines, it's vital you contact us. You can view our pipeline locations through our online mapping service https://linesearchbeforeudig.co.uk. The majority of our high and intermediate pressure pipelines, which deliver gas to towns and cities nationwide, cross rural areas. If our large-diameter high pressure pipelines run underneath your land, our team will visit you free of charge to confirm and mark out our pipeline route before any work begins. We're here to keep you, and our network, safe.
For more information, visit sgn.co.uk