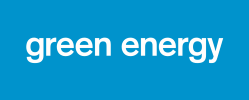 We are an energy supplier that doesn't act like one. We're a practical, down-to-earth and honest company. And it shows.
We don't exist to save the world. We don't want to be the biggest energy company around. We just want more people to use sustainable energy.
We treat customers like, well, customers. Not as numbers and not like Swampy either and we don't play on heartstrings
We just like sustainable energy because it's useful, it's more imaginative and it's more resourceful.
Many of our generators are rural businesses, so we have an interest in maintaining our green and pleasant land.
We are a different kind of green energy provider. We challenge the idea that 'being green' is all about making a big commitment, about making an extra effort, and paying extra costs.
Indeed, companies often talk about green energy as an 'alternative'. On the contrary, green energy makes sense for everyone, and we want to make it mainstream. For electricity and gas, we're green.
So, our prices are competitive not only within the green market, but also the entire utilities industry. By minimising the cost and effort it takes to switch, we aim to remove all obstacles to going green.
And because we want to give you even more reason to switch, we allow our customers to become shareholders for free.
We want our customers to be more than mere consumers, to take an active role in shaping their energy supply. You will be invited to our AGM. No corporate smoke and mirrors here, just an open and honest approach to doing business.
Our energy might be green but our thinking is multi- coloured.
Put simply: we do care about the environment, but we are not idealists with our heads in the clouds.
We are down to earth, in every sense.