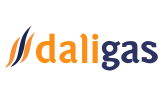 – daligas is a private, independent gas supplier with its head office in London.
Being independent presents us with the opportunity to create a trusted strategy, with strong partnerships, thereby offering our customers the best product at the lowest price.
– The founders of daligas are a team of high skilled and experienced people in the fields of Energy, Information Technology, Sales and Marketing and Business Management.
This founding team has developed a business model of low operating cost, direct contact with consumers, a lower gas fixed price, plus advanced computer systems for handling our customer switching process and for customer support.
– We entered the UK market with a straight forward offer.
Our customers take advantage of a high quality product, wherever they are in the UK, and for any level of consumption. Why make it complicated when you can make it easy and competitive for everybody and everywhere ?
With this reliable and successful model, already proven in other European Countries, daligas confidently is present on the UK market with a primary goal, to achieve trust and satisfaction for our valued customers.